Proper packaging is an essential marketing strategy every company or any luxury brands are doing to attract customers. Personalized satin ribbons are sometimes the main component of a beautifully crafted brand packaging system. This kind of approach in branding is very beneficial, especially to a chocolatier. A good quality box designed with beautiful ribbons will surely captivate potential customers to buy the products. It will give excitement to the people opening the box.
Personalized satin ribbons will give a touch of elegance to every box, gift baskets, cellophane bags, chocolate lollipops or gift packets filled with sweet and delicious chocolates.  The beautiful custom ribbons will give the packaging an additional level of sophistication to the products you are trying to sell and to your brand in general. Here are some reasons why you need to incorporate personalized ribbons into your product's packaging and why product strategy is critical.
Elevate Your Product Using Personalized Ribbons
Their packaging choices can classify most classic and sophisticated products. A beautifully printed logo on a satin ribbon with a beautiful palette will surely elevate every brand or product. It will give more impact than a simple business card. One of the most critical aspects of a brand marketing strategy is to promote your product effectively to your target market. Using personalized satin ribbons to the packaging is a great way to add sophistication and a layer of marketing to your brand. Not only that, but it will also create a stronger brand identity. Take for example, when The Golden Turtle Chocolate Factory started marketing their products, putting a simple logo to their product is not enough. Their marketing staff thought of a plan to make their brand more enticing by putting custom satin ribbons. They said that putting a few elements to the product could make the brand more elegant. Their design team also changes the color of their existing palette and added a small strip to the background. These changes created an air of sophistication around the product. The people that will receive the beautifully packaged chocolates will instantly know that they received a special gift. Making your customers feel like they are getting something extraordinary is very important because people look for exclusivity in every product. They look for luxury and class without breaking their bank. Personalized ribbons can give you all of this, and more. Decorations can make any boxes or baskets looks expensive, not to mention presentable.
(To know what a color palette in satin ribbons look like, visit https://www.color-hex.com.)
Gives An Additional Professional Touch To Your Brand
In today's world, anyone can sell any product, whether it has good packaging or not. But to ascend the level of luxury status needs careful planning and a lot of hard work from a team of professional decorators. Incorporating your company's logo on beautifully personalized satin ribbons will ensure you that your target market will get the best product possible. Captivating your customer's imagination with your unique packaging is associated with known brands like Jaques Genin of Paris, Jaques Torres Chocolate or Mason du Chocolat.
(Click here to see how chocolate packaging with ribbons looks like.)
Increasing Your Brand or Product Awareness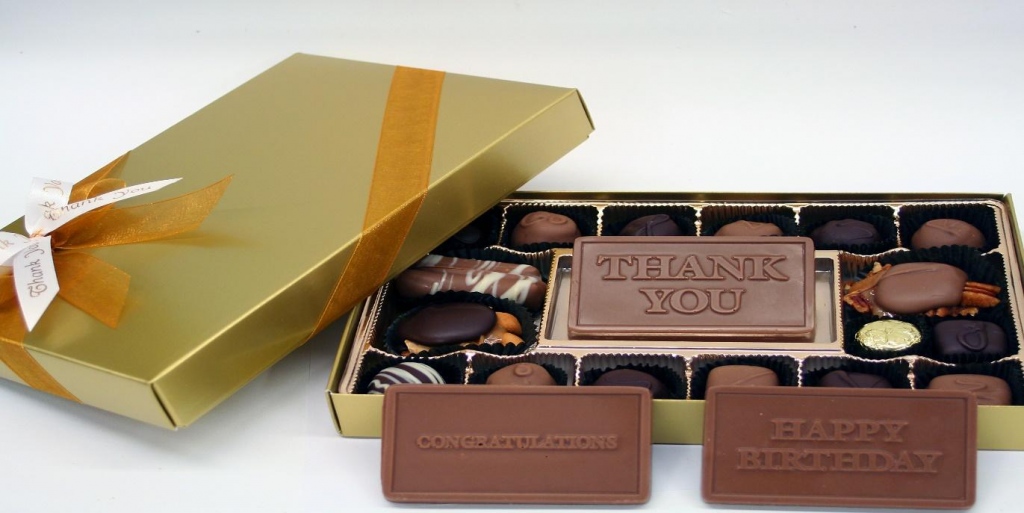 Important events like wedding, birthdays, anniversaries, bar mitzvah, corporate celebrations, bat mitzvah or a simple get together will call for a special favor for every guest. Everyone, whether young or old always appreciate a box or basket of chocolates. Who does not want to receive a beautifully packaged sweets at the end of every party? If you are selling thank you gifts for parties, it is best to add your personalized ribbons to the gift packs because it will serve to communicate your product or brand to your target market. Take a look at Ghyslain Chocolatier, and they always add their signature personalized packaging ribbons with every gift box that they sell to parties that guests take home after the event. This way, the guests will know where their gift boxes or baskets were made. It serves as a business card for the company aside from just being a decorative piece.
Stand Out From Your Competition
Ellie, the elephant, is a logo made from sugarlovechocolates.com. It is very adorable and a fun mascot that will always be associated with Sugar Love Chocolates. A combination of catchy color palette and logo is a very effective marketing strategy that can define or cement your product's image to your target market. Once you have every element of a good logo to be used in your marketing strategy, you can enhance it with the use of personalized satin ribbons. You can make your business and your brand, especially the product you want to sell to your target market stand out from your competitors by adding personalized ribbons to your packaging aside from putting your logo or your color pallet. It will give a more sophisticated look and elevate your product and give your customers a feel of exclusivity. You can use precision printing method to print your designs to the ribbons, and the good thing about using this kind of printing method is it is a permanent process. The decorations are dyed using specialized inks to match the color of your designed mascot or logo perfectly. Using precision printing method in printing the designs to ribbons is very important to the marketing process because it will give your product sophistication and class. Not only that, the technology has no design or color limitations. This kind of marketing process is perfect because you can match every color in your design, it has class, it has a fast turnout, and most especially it has a competitive price compared to another marketing process.