Trogir's central location on the Dalmatian coast makes it very easy to travel to and from nearby towns. One of such towns we'll be looking at today is Split as we shall be going through the various travel options available from Split to Trogir.
1) Travelling by car
If you prefer the feel of the open road, then you're in luck as they are no shortages of routes to Trogir and you'll find all the information you need on Google maps. Tolled highways can be unappealing and if you aim to steer clear of them, take the state road D1. Alternatively, you could get to Trogir from Split by traversing the A1 motorway. The average duration of the journey is 30 to 40 minutes.
2) Taking the bus
Trogir and Split are just 30 kilometers apart and you could take the number 37 bus that frequents the route back and forth every half an hour or so. A bus ticket is priced at 19 Kunas or 2.60 Euros and 4 Kunas or 0.55 Euros for adults and children respectively; any child under the age of six will travel free of charge. A two-way adult ticket is 4 Euros or 29 Kunas and tickets can be bought at the newspaper stands in the Split bus station. It is also important to note that bus line number 37 is usually station at Sukoisan bus station which is about 1.5 km from the main bus terminal in Split and will have about seven stops in-between towns which will increase the entire trip duration considerably.
There are many other bus options you could also opt for with each offering different fares to Trogir and with the majority of these buses travelling to Zadar and Šibenik via Trogir. What's more, there are also countable buses travelling directly to Trogir from Split airport.
3) Private transfer option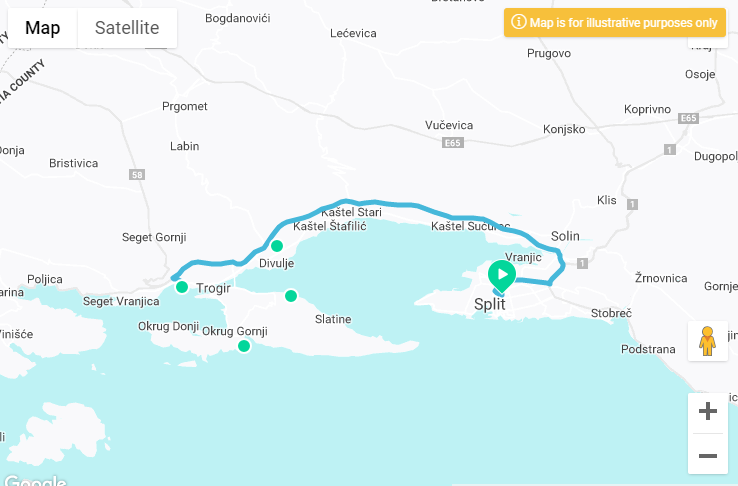 Alternatively, you could put arrangements in place with a recognized private transfer company and have them do all the heavy lifting for you. They'll take good care of you and you won't even notice the time in while traveling between Split and Trogir.
4) Taking a taxi
It is quite costly to take a private taxi particularly during the peak periods but it is still a convenient way to travel from Split to Trogir as there are no stopovers along the way. The rates range between ten and fifteen Euros for 2 to 3 people.
5) Journeying by boat
The water route from Split to Trogir takes about an hour which is considerably longer (almost twice) compared to road transport but the upside is that you get to see the beautiful gems that the enthralling waters of the Adriatic harbor. There are two popular boat companies providing the means of transport between the two towns with charges ranging from 30 Kunas to 70 Kunas depending on the various route options you take. Be sure to book your ticket early lest you get stranded as travelling by water from Split to Trogir is extremely popular.
Trogir is well known for its sights and wonders and now you should be able to get to travel there without a problem.